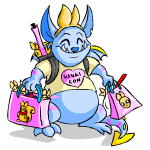 Neopets will be coming to various conventions around the USA and Asia this fall! Here's where they just announced they'll have a presence:
RetroGameCon
When:
October 7th-8th
Where:
The Oncenter's Nicholas J. Pirro Convention Center, Syracuse, New York, USA
Tickets:
Starting at $42.59 for a weekend pass, or $25.25 for day pass
Tickets
The sponsorship will allow Neopets to give back to the local community like never before. Neopets is teaming up with RetroGameCon to support a worthy cause through a con-wide auction, allowing attendees to bid on exclusive Neopets merch packages, with proceeds benefiting Extra Life. Attendees can look forward to a blast from the past with a Neopian scavenger hunt throughout the show, redefining the brand's commitment to bringing to life immersive and community-driven projects. All attendees will also receive an exclusive Neopets lanyard at the event!
There will also be a
scavenger hunt available
, and the first 500 to finish will receive a "special prize."
New York Comic Con
When:
October 13th-14th
Where:
Javits Centre, New York, New York, USA
Tickets:
Starting at $73.25 for Thursday and Sunday only (Fri + Sat sold out)
Tickets
Fans and adventurers can join in on Neopets-themed quests, photo ops, and Neostalgic giveaways featuring a Faerie twist! With surprises around every corner, this faerie extravaganza promises to transport attendees into the enchanting world of Neopia. Fans are invited to look out for 5 Neopian Faeries floating around the convention center to participate in an exclusive NYCC giveaway by snapping a photo and tagging @NeopetsOfficialAccount on Instagram to participate!
gamescom asia
When:
October 19th-22nd
Where:
Suntec Convention & Exhibition Centre, Singapore
Tickets:
Starting at S$25
Tickets
CEO Speaking Panel
Neopets is honored to have its passionate leader, Dominic Law, as a featured speaker at gamescom asia. Dominic will be sharing insights into the evolution of Neopets and the gaming industry. ... Attendees can look forward to an engaging and thought-provoking session that explores the past, present, and future of Neopets. Singapore is one of Neopets' most engaged countries outside of North America. As an international hub of tech and innovation, it will help usher in a coast-to-coast effort by Neopets to revive the brand. The game has always brought together a diverse demographic, and for the first time, that global online community will be celebrated by the brand in person.